Urology
Our urologists and nurse practitioners have advanced training in understanding and treating problems of the male and female urinary tract. They also have knowledge in internal medicine, gynecology, geriatrics, pediatrics and oncology, and are passionate about preserving your individuality, privacy and dignity.
These specialists work together as a team collaborating daily on patient concerns and situations. When needed, Mayo Clinic urology experts are just a phone call away.
When surgery is needed, we offer a full range of surgical treatment options with strong emphasis on minimally invasive procedures that promote early recovery and decreased pain. State-of-the-art treatment is available for prostate, bladder and kidney cancers and disease, as well as urological trauma.
Call 715-838-6150.
Outreach: Our board-certified urologists see patients in Eau Claire, as well as in Barron, Bloomer, Menomonie and Rice Lake. No referral is necessary.
If you have urinary incontinence, it may seem like your bladder controls your life. But, through personal determination, proper education, incontinence management techniques and medical treatments, you may regain control.

Common types of urinary incontinence:

Overactive bladder
Stress incontinence
Mixed incontinence (urge-stress)
Overflow incontinence

Treatment for urinary incontinence is as individual as each patient. In some cases, a combination of treatments is necessary. Your provider will work with you starting with the least invasive treatments and then moving on to other options.

Possible treatments include:

Bladder training
Double voiding
Fluid and diet management
Medications
Pelvic floor muscle exercises
Pelvic support devices
Scheduled toilet trips
Surgery

Prostatectomy – Robotic Surgery

Prostatectomy includes a number of surgical procedures to remove part or all of your prostate gland. This gland is situated in the lower abdomen of men, below the urinary bladder. It is most often done to treat localized prostate cancer. It can also be used to treat a blocked urethra caused by benign prostatic hyperplasia (BPH), an enlargement of the prostate glands.

During robotic surgery
Your surgeon sits at a remote control console a short distance from you and the operating table and precisely controls the motion of the surgical instruments using two hand-and-finger control devices. The console displays a magnified, 3-D view of the surgical area that enables the surgeon to visualize the procedure in much greater detail than in traditional laparoscopic surgery. The robotic system allows smaller and more precise incisions, which, for some people, promotes faster recovery than traditional open surgery does. The robotic approach also enables nerve-sparing techniques that may preserve both sexual potency and continence in the appropriately selected person. Robotic prostatectomy can result in reduced pain and blood loss, reduced tissue trauma, a shorter hospital stay, and a quicker recovery period than a traditional prostatectomy.
Locations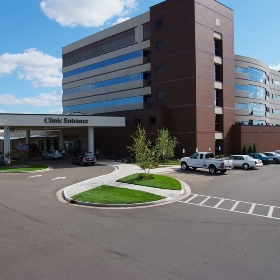 Luther Campus Clinic
1400 Bellinger St., Eau Claire, WI 54703
Hours:

Mon-Fri:

8:00 AM - 5:15 PM
Sean Primley, M.D.
Urology
Andrew Jahoda, M.D.
Urology
Emily Riechers, N.P.
Urology