Need to make an appointment?
Breast Care
The STRIVE Study
Participate in STRIVE, a nationwide study to evaluate a new option for detecting breast cancer early, in which a simple blood test can reveal small pieces of DNA tumors release into the blood. Because ultimately, the earlier doctors can find breast cancer, the greater the chance of a cure. Learn more.
Center for Breast Care
Bringing all specialties together to better care for our patients who have breast cancer
The Mayo Clinic Health System – Franciscan Healthcare Center for Breast Care provides comprehensive care—screening, evaluation, treatment, guidance and follow-up—for any breast concerns you may have.
The Center for Breast Care helps women who:
Wish to be screened for breast cancer
Are concerned about the risk of developing breast cancer
Seek a second opinion about a lump or other abnormality
Have found a lump
Have breast/nipple discharge
Have persistent breast pain that is unrelated to menses
Have had an abnormal mammogram or breast ultrasound
Led by physicians specializing in breast health, our goal is to provide you with comprehensive and individualized care. We coordinate every aspect of your breast care throughout your visit here.
The Center for Breast Care applies new clinical research to patient care and is first to bring in new, more effective technologies. We use Molecular Breast Imaging (MBI), the newest-generation breast cancer screening tool and the only MBI unit in the La Crosse area. We also have access to the only proton beam therapy installation within 250 miles at the Rochester campus.
The Breast Interdisciplinary Team brings together all related specialties to care for our breast cancer patients. Staff from pathology, general surgery, medical oncology, breast imaging, genetic education, radiation oncology, research, plastic surgery and occupational therapy may be asked to join the team.
Members of this team are personally involved with all newly diagnosed breast cancer patients. They are supported by highly qualified specialists including a clinical nurse breast health specialist, cancer guides, technologists, educators and emotional support specialists.
The breast team meets regularly to discuss each newly diagnosed patient and communicate on treatment plans in progress. This powerful collaboration is an innovative way to develop a highly effective treatment plan. Combined with the most advanced diagnostic and therapy technology in the region, this remarkable team provides the highest standard of care.
Our Center for Breast Care was established in 2005 and was accredited by the National Accreditation Program for Breast Centers (NAPBC) in 2009. The NAPBC was established to identify and recognize centers providing quality care to patients.
---
STRIVE Study
Mayo Clinic Health System – Franciscan Healthcare is enrolling women who receive a screening mammogram in La Crosse or Onalaska in the STRIVE Study, a longitudinal study to evaluate a new option for detecting breast cancer early. This new technology, developed by GRAIL, uses a blood test to find small pieces of DNA released into the blood by tumors. Mayo Clinic Health System – Franciscan Healthcare will be recruiting 6,000 patients to participate. Learn more
---
Density MATTERS Study
Mayo Clinic is seeking women, ages 40 to 75, for breast imaging research in the Density MATTERS Study. MATTERS is an abbreviation for MBI And Tomosynthesis To Eliminate the Reservoir. The reservoir refers to those cancers that would otherwise go undiagnosed on mammography because of masking by dense tissue.
The purpose of the Density MATTERS Study is to compare the performance of molecular breast imaging (MBI) to tomosynthesis (also known as 3D mammography) in detecting breast cancer in women with dense breasts. You may be eligible if you are planning to or are scheduled to have a tomosynthesis screening test, if you have had a previous mammogram showing dense breast tissue, and if you have never had an MBI test before. Participation involves MBI testing at the beginning of the study and again in one year's time.
For more information, contact the Department of Medicine Clinical Trials Unit at 507-266-1944 or by email.
---
Visit us
The Center for Breast Care is on the second floor of the Hospital Building on the La Crosse Campus.
For an appointment please call: 608-392-9822
Locations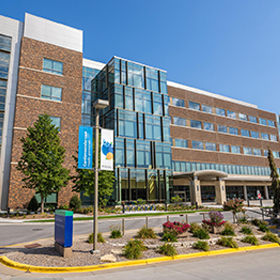 Hospital
700 West Ave. S., La Crosse, WI 54601
Hours:

Mon-Fri:

8:00 AM - 5:00 PM