Posted By
My colonoscopy experience: A gastroenterologist gets some of his own medicine -- A three part story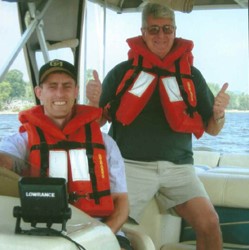 Part One: A call from my father
I knew something wasn't quite right listening to the message on our answering machine early last October. It was my dad. "David, give me a call. I've got to talk to you about something." Calling back, somehow I wasn't that surprised when he told me almost immediately, "I had my colonoscopy last week, and they found an early cancer. So you know what that means."
I knew exactly what he meant—I needed a colonoscopy. My dad, also a gastroenterologist, knows the recommendations for colon cancer screenings as well as I do. If a person has a first degree relative (a parent, sibling or child) who had colon cancer, it is recommended for that person to have a colonoscopy either at age 40 or ten years before the age when the first degree relative was diagnosed with cancer, whichever comes first. Guess what? I was 40. Rather than waiting until the magic age of 50, I get to have my colonoscopy ten years earlier than expected.
My dad didn't seem nervous at all. I think he was more nervous for me. Fortunately, everything went fine for him. The cancer was completely removed by surgery, and because it was a very early cancer, he didn't need chemotherapy.
I, on the other hand, had some work to do. I scheduled my colonoscopy for 8:45 a.m. on Nov. 6, 2012, which happened to be Election Day. To be honest, I was looking forward to getting it done. After performing colonoscopies on patients for almost ten years, I was somewhat intrigued to experience it from the other side.
Topics in this Post
Comments (3)
Burdette Hoeppner
Sunday, March 27, 2016
I was feeling better about my upcoming colonoscopy and prostrate biopsy after reading your article. It was good knowing your dad had a full recovery and your experienced in this stuff.
Shirley Oja
Saturday, January 23, 2016
What a great article on a sensitive subject, very well done.
Tatjana Grzenia
Tuesday, March 19, 2013
Great - maybe if all gastroenterlogist has to do the procedure, there would be some improvements, such as detailed instructions on what to eat prior, when etc I did have mine at Mayo, but even there there is a lack of detail and there is a lack of individualization for the patient. I think that there ought to be alternatives offered at annual visit, FOB does work, if consistently applied. Look forward to reading the next segments.