Obstetrics & Gynecology (OB-GYN)
Obstetrics & Gynecology (OB-GYN)
OB-GYN at Mayo Clinic Health System in Mankato provides care designed for your whole body. We view our role in women's health as a partnership — helping you understand the options available — so you can make decisions that fit your lifestyle.
A multidisciplinary team of experts collaborate to provide individually-driven care for women, including:
Minimally invasive treatment for heavy periods
Menopause treatment including treatment for hot flashes and osteoporosis
Traditional treatment of disease
Adolescent gynecology
Education
Preventive health care measures
Prenatal care
Childbirth
Laparoscopic surgery
Obstetrical and gynecologic ultrasound
Cancer screening
Family planning
High-risk obstetrics
Infertility
Traditional gynecological surgeries
Watch Ginny Clementson, a Mayo Clinic Health System nurse practitioner who practices in obstetrics and gynecology, talk about women's health on Speaking of Health.
Locations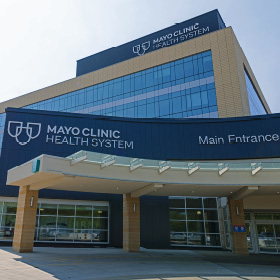 Campus parking map
Hospital and Clinic
1025 Marsh St., Mankato, MN 56001
Clinic Hours:

Mon-Fri:

7:30 AM - 5:00 PM

Clinic hours subject to change on holidays.
Sonal Grover, M.D.
Obstetrics & Gynecology (OB-GYN), Women's Health
Ginny Clementson, C.N.P.
Obstetrics & Gynecology (OB-GYN), Women's Health
Related Upcoming Classes View More