Audiology
Mayo Clinic Health System Audiology provides expert, whole-person care for people of all ages with hearing loss, dizziness, balance disorders and more.
Our multidisciplinary team of experts, including Audiologists and Otorhinolaryngologists (Ear, Nose and Throat), collaborate on your care to give you exactly the care you need. Common problems we treat include:
Auditory processing disorders
Cerumen impactions
Plugged ears
Otalgia
Otorrhea
We provide comprehensive hearing and balance testing for all ages including:
Electrophysiologic measures to assess hearing status and speech perception
Treatment for positional vertigo
Middle ear and Eustachian tube function testing
Tinnitus and hyperacusis evaluation and treatment
Candidacy evaluation along with pre-and post-operative management for osseointegrated and cochlear implants
Evaluation, prescription, fitting and follow-up of amplification and assistive listening devices and non-traditional devices such as:

Cros/BiCros
Wireless accessories
FM systems
Hearing aids
Hearing protective devices
Musician's plugs
Custom pieces for earphones
Sound therapy
Explore the links on the left side of this page for information on our Baha and Cochlear Implant Programs, hearing rehabilitation and more.
Locations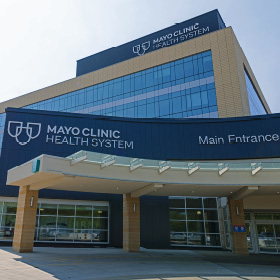 Campus parking map
Hospital and Clinic
1025 Marsh St., Mankato, MN 56001
Clinic Hours:

Mon-Fri:

7:30 AM - 5:00 PM

Clinic hours subject to change on holidays.
Colleen Ireland, Au.D.
Audiology (Hearing)
Katie Kendhammer, Au.D.
Audiology (Hearing)
Related Upcoming Classes View More
Hearing Loss Support Group
Mankato, MN