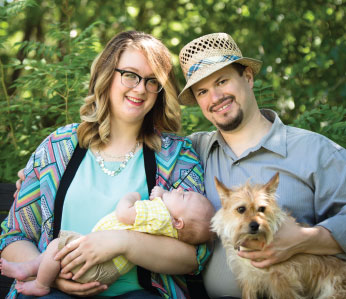 Susi and Luc Boe were ready to start their family. But after a year of trying, Susi still wasn't pregnant.
"I went to see a doctor and she told me to lose weight," says Susi. She did, but still did not become pregnant. Then, Susi scheduled an appointment with Seanna Thompson, M.D., an obstetrician-gynecologist at Mayo Clinic Health System in Red Wing.
Dr. Thompson prescribed a medication, metformin, which helps some women ovulate. It's just one option for fertility treatment offered in Red Wing.
"We can do a number of tests to try to determine the cause of infertility in both men and women," says Dr. Thompson. "We also offer a number of treatments, including medication, sperm washing and intrauterine insemination."
A few months after she began taking metformin, Susi was overjoyed to become pregnant.
"It was a really good pregnancy," she says.
It must have been good from the baby's perspective, too, because at 41 weeks Susi still hadn't delivered. (A typical pregnancy is 40 weeks.) Susi was scheduled for an induction, which means she would be given medication to start labor. It worked, and Rowan Thomas Boe arrived at 3:19 a.m. on June 2, weighing in at 9 pounds, 6 ounces.
"In our family, that makes him a tiny baby," says Susi with a laugh. "My sister and I both weighed over 11 pounds when we were born."
After Rowan's birth, Susi attended a discharge class and postnatal classes in Red Wing. The classes include baby weight, jaundice, cord and circumcision checks, and give new parents an

opportunity to receive education and support from childbirth education instructors, nurses and lactation consultants. Parents can also share their experiences with other new parents, and ask any questions they have.
"Every time I went to one of the classes I learned something new," says Susi. "I don't know what I would have done without the classes. They kept me sane."
When she looks back on her pregnancy experience, what stands out most to Susi is the care she and her family received in the hospital.
"I was surprised by how well they took care of all of us," she says. "I was expecting them to look after my health and the baby's health, and they did. The nurses were so attentive to me and did everything they could to make sure I was comfortable. But they also took care of Luc and my mom and sister, who came to be with me. They really went above what I was expecting."
Topics in this Post