Emergency Medicine
How Do You Know What Type of Care to Seek? 
All health care professionals want to provide you with the best possible health care in a convenient and timely fashion. That's why care is offered in a variety of settings. Learn more.
Emergency Medicine
The Emergency Department at Mayo Clinic Health System in Mankato offers comprehensive emergency services with the region's only full-time, board-certified emergency medicine physician staff. Our state-of-the-art facilities and access to highly specialized services mean patients can receive quality health care, close to home. As part of Mayo Clinic Health System, we are dedicated to putting patient needs first.
Services include:
Level III trauma center
Full-time board certified emergency medicine physician staff
ACLS/TNCC trained registered nurses
Dedicated System Trauma Alert Team (STAT)
Rapid access to multiple specialties
State-of-the-art diagnostic and treatment capabilities including: ultrasound, helical CT, interventional radiology, MRI, angiography, cardiac cath lab
Complete stroke care and pediatric/adult neurosurgical capabilities
Evaluate and manage acute coronary syndrome
Telephone consultation to help evaluate and triage emergency patients throughout the region
Telestroke

If your emergency medicine provider suspects you are having a stroke, he or she will activate the telestroke hotline at Mayo Clinic, which connects them to a Mayo Clinic vascular neurologist. The vascular neurologist will provide a real-time, audiovisual consultation and evaluation. Having this technology available reduces the risk of stroke-related disabilities for our patients. Read more about telestroke.
Always call 911 if you have an emergency.
Related Upcoming Classes & Events View More
Stroke Support Group
Mankato, MN
Locations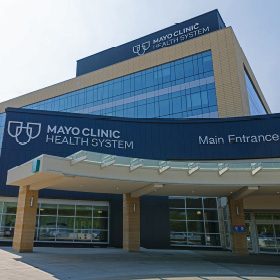 Campus parking map
Hospital and Clinic
1025 Marsh St., Mankato, MN 56001
Emergency Department Hours:

Open 24 hours
Clinic Hours:

Mon-Fri:

7:30 AM - 5:00 PM

Clinic hours subject to change on holidays.