Emergency Medicine
Emergency Medicine
At Mayo Clinic Health System in Fairmont, we are committed to quality patient care. Our professional staff of physicians, providers and nurses are dedicated to providing excellent health care.
Two entrances open directly into the Emergency Department — a convenient entrance for drive-up patients and an enclosed ambulance bay. Both are located so patients can reach the treatment area in seconds.
The Emergency Department is a level IV trauma center and offers physician coverage 24 hours a day, 7 days a week. Access to specialty services available include:
When you arrive
Emergency Department staff see patients as quickly as possible. Some patients arrive with time-sensitive medical conditions and because every second counts, these patients need to be treated immediately. All patients are important to us - we appreciate your patience.
Can my family member or friend join me in the exam room?
Every patient is entitled to a confidential, private examination. Generally, family members and friends are asked to remain in the waiting room until after the physician has completed an initial examination. A nurse will be available to provide family members information or answer questions. After this initial visit with your physician, a family member or friend may join you.
Telestroke
If your emergency medicine provider suspects you are having a stroke, he or she will activate the telestroke hotline at Mayo Clinic, which connects them to a Mayo Clinic vascular neurologist. The vascular neurologist will provide a real-time, audiovisual consultation and evaluation. Having this technology available reduces the risk of stroke-related disabilities for our patients. Read more about telestroke.
Always call 911 if you have an emergency.
Locations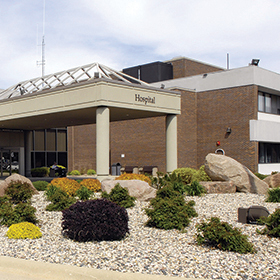 Hospital and Clinic
800 Medical Center Drive, Fairmont, MN 56031
Emergency Department Hours:

Open 24 hours