New leader takes the helm in northwest Wisconsin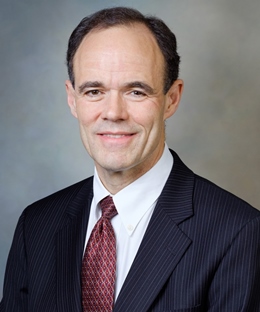 EAU CLAIRE, Wis. — Richard A. Helmers, M.D., recently assumed the role of regional vice president at Mayo Clinic Health System in northwest Wisconsin.
Dr. Helmers is the new physician leader for Mayo Clinic's community practice in northwest Wisconsin, a region that includes five hospitals and 12 clinics. He began transitioning into the role in April, as previous president and CEO Randall Linton, M.D., prepared to retire.
"I am incredibly honored and excited to join Mayo Clinic Health System in northwest Wisconsin," says Dr. Helmers. "I look forward to working together to continue the great success the region has achieved. Everyone here has worked so hard to have my transition be as smooth and positive as possible, especially Dr. Linton. My wife, Samantha, and I are enjoying getting to know people in the Eau Claire community. Everyone has been so welcoming."
In his new role, Dr. Helmers will provide organizational leadership, direction and be responsible for the overall performance of northwest Wisconsin operations, including outcomes, safety, service and financial performance. Dr. Helmers will promote and expand Mayo Clinic Health System's foundation of providing high-value care, supporting local wellness and promoting overall community health.
"We are delighted to welcome Dr. Helmers to this role," says John Noseworthy, M.D., president and CEO, Mayo Clinic. "Dr. Helmers is an outstanding physician leader. I am confident he will further strengthen Mayo Clinic's presence in northwest Wisconsin and will lead our exceptional staff in delivering the highest-quality health care."
"Dr. Helmers possesses a rare depth of experience in a variety of leadership positions and has a legacy of success in leading complex initiatives, such as the Plummer Project," says Bobbi Gostout, M.D., vice president, Mayo Clinic. "We look forward to drawing on that experience at Mayo Clinic Health System in northwest Wisconsin."
"During his tenure at Mayo Clinic in Scottsdale, Dr. Helmers provided strong leadership and direction during a rapidly growing and changing practice," says Mark Koch, M.D., vice chair, Administration, Mayo Clinic Health System. "We are confident he is a leader committed to the future of the entire Mayo Clinic organization, and will serve patients and employees well in northwest Wisconsin."
For the past five years, Dr. Helmers has served as vice dean for practice at Mayo Clinic. He has served more than 20 years with Mayo Clinic in Scottsdale, Arizona, in various leadership roles, including chair of the Pulmonary Division, vice chair of the Department of Medicine and chair of the Mayo Clinic Clinical Practice Committee in Arizona.
He is a member of the American Thoracic Society and was named the American Thoracic Society's Outstanding Clinician in 2010.
A native of Sibley, Iowa, Dr. Helmers holds a bachelor's degree from Iowa State University in Ames, Iowa, and received his medical degree from the University of Iowa College of Medicine in Iowa City, Iowa. Dr. Helmers completed his medical internship in internal medicine at Indiana University Medical Center in Indianapolis. He also completed his internal medicine residency and fellowship in pulmonary diseases at the University of Iowa, along with a fellowship in critical care medicine at St. Luke's Hospital in Milwaukee, Wisconsin.
Dr. Helmers' wife, Samantha, is a nurse. They have two adult children.
Dr. Helmers succeeded Randall Linton, M.D., who retired in April after serving in the role of president and CEO for 15 years. In this transition, the title of the position has changed from president and CEO to regional vice president, northwest Wisconsin, to better align with other similar job titles and organizational structures within Mayo Clinic.
# # #
Mayo Clinic Health System consists of clinics, hospitals and other facilities that serve the health care needs of people in 60 communities in Iowa, Minnesota and Wisconsin. The community-based providers, paired with the resources and expertise of Mayo Clinic, enable patients in the region to receive the highest-quality health care close to home.
Press Contact
Dan Lea
e-mail: lea.dan@mayo.edu
phone: 715-838-6405