Belle Plaine now offers OB-GYN services locally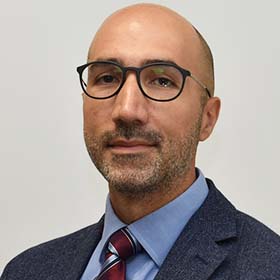 BELLE PLAINE, Minn. — Beginning April 20, Tarek Khalife, M.D., and Becky DeLuca, nurse practitioner, will begin providing obstetrics and gynecology (OB-GYN) services at Mayo Clinic Health System in Belle Plaine. Dr. Khalife and DeLuca will see patients in Belle Plaine every Thursday and alternate morning and afternoon periods between 8:30 a.m. and 4:30 p.m. Services provided include preventive health screenings, menstrual concerns, pelvic symptoms or pain, and prenatal care. Additionally, surgical consults will be available in Belle Plaine; however, surgeries will continue to take place at Mayo Clinic Health System in New Prague's hospital location.
"A rich history exists between the Belle Plaine clinic and New Prague hospital, who've been affiliated for over 50 years," says Marty Herrmann, M.D., medical director of Mayo Clinic Health System in New Prague. "Improving women's health is a natural extension of what we strive for in our communities. We're pleased to provide these expanded OB-GYN services, as an addition to our already established multidisciplinary practice in Belle Plaine, close to where our patients live."
Originally from New Prague and a nurse practitioner since 2010, DeLuca has practiced with Mayo Clinic Health System in New Prague the past two years. She completed a Master of Science degree from the University of Cincinnati, Cincinnati, Ohio and is certified as a women's health nurse practitioner. Her special interests include urinary incontinence, prenatal care and vulvar health.
"I'm able to establish care with patients who are pregnant during an initial consultation to get them started with their prenatal care and follow-up visits," says DeLuca. "As a nurse practitioner, I then partner with one of my obstetrician colleagues who helps oversee the last part of my patient's pregnancy in the hospital. However, I'm still very much a part of their entire pregnancy experience."
Dr. Khalife graduated medical school at Beirut Arab University in Beirut, Lebanon. He later completed two separate residencies in OB-GYN from Henry Ford Health System at Wayne State University in Detroit and American University of Beirut Medical Center in Beirut. He lists minimally invasive surgery, pelvic support disorders, female sexual disorders and gynecological ultrasound as professional interests.
"Our entire team has a passion for taking care of our patients and advancing their health," says Dr. Khalife. "Having the resources of Mayo Clinic backing us and providing this level of care to smaller communities is a great benefit for our patients."
Call 952-873-2276 to schedule an appointment.
Mayo Clinic Health System consists of clinics, hospitals and other facilities that serve the health care needs of people in more than 60 communities in Georgia, Iowa, Minnesota and Wisconsin. The community-based providers, paired with the resources and expertise of Mayo Clinic, enable patients in the region to receive the highest-quality health care close to home.
Press Contact
Micah Dorfner
e-mail: MACOMMDEPT@mayo.edu
phone: 507-594-2691
fax: 507-594-2992
Topics in this Press Release