Need to make an appointment?
Neurosurgery
Conditions Treated
Back pain is common because your back is a complex system of more than 30 bones held together with muscles, tendons and ligaments, and is constantly under tension. Your back supports your entire body and experiences a lot of wear and tear over time. We care for all types of spinal conditions in Eau Claire, including:
Back pain
Your spine is a column of bones (vertebrae) held together by muscles, tendons and ligaments and cushioned by shock-absorbing disks. A problem in any part of your spine can cause back pain. For some people, back pain is simply an annoyance. For others, it can be excruciating and disabling.
Most back pain — even severe back pain — goes away on its own in four to six weeks. Surgery is rarely needed for back pain and is generally considered only as a last resort.
---
Herniated disks
A herniated disk refers to a problem with one of the rubbery cushions (disks) between the individual bones (vertebrae) that stack up to make your spine.
A spinal disk is a little like a jelly donut, with a softer center encased within a tougher exterior. Sometimes called a slipped disk or a ruptured disk, a herniated disk occurs when some of the softer "jelly" pushes out through a tear in the tougher exterior.
A herniated disk can irritate nearby nerves and result in pain, numbness or weakness in an arm or leg. On the other hand, many people experience no symptoms from a herniated disk. Most people who have a herniated disk don't need surgery to correct the problem.
---
Spinal stenosis
Spinal stenosis is a narrowing of the spaces within your spine, which can put pressure on the nerves that travel through the spine. Spinal stenosis occurs most often in the lower back and the neck.
Some people with spinal stenosis may not have symptoms. Others may experience pain, tingling, numbness and muscle weakness. Symptoms can worsen over time.
Spinal stenosis is most commonly caused by wear-and-tear changes in the spine related to osteoarthritis. In severe cases of spinal stenosis, doctors may recommend surgery to create additional space for the spinal cord or nerves.
---
Sciatica
Sciatica refers to pain that radiates along the path of the sciatic nerve, which branches from your lower back through your hips and buttocks and down each leg. Typically, sciatica affects only one side of your body.
Sciatica most commonly occurs when a herniated disk, bone spur on the spine or narrowing of the spine (spinal stenosis) compresses part of the nerve. This causes inflammation, pain and often some numbness in the affected leg.
---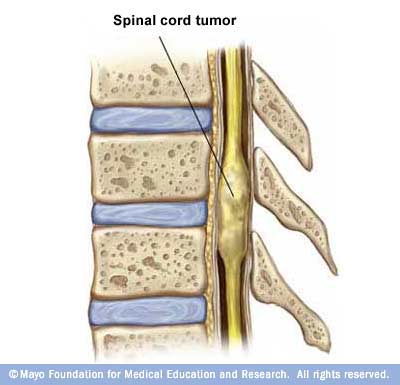 Spinal tumors
A spinal tumor is a growth that develops within your spinal canal or within the bones of your spine. It may be cancerous or noncancerous. Tumors that affect the bones of the spine (vertebrae) are known as vertebral tumors. Tumors that begin within the spinal cord itself are called spinal cord tumors.
Spinal tumors or growths of any kind can lead to pain, neurological problems and sometimes paralysis. Whether cancerous or not, a spinal tumor can be life-threatening and cause permanent disability.
---
Spinal fracture
A spinal fracture is a break or dislocation of a vertebra in your spine. Most fractures occur after a traffic accident or fall.
---
Spinal fusion
Spinal fusion is surgery to permanently connect two or more vertebrae in your spine, eliminating motion between them. Spinal fusion involves techniques designed to mimic the normal healing process of broken bones. During spinal fusion, your surgeon places bone or a bonelike material within the space between two spinal vertebrae. Metal plates, screws and rods may be used to hold the vertebrae together, so they can heal into one solid unit.
Because spinal fusion surgery immobilizes parts of your spine, it changes the way your spine can move. This places additional stress and strain on the vertebrae above and below the fused portion, and may increase the rate at which those areas of your spine degenerate.
---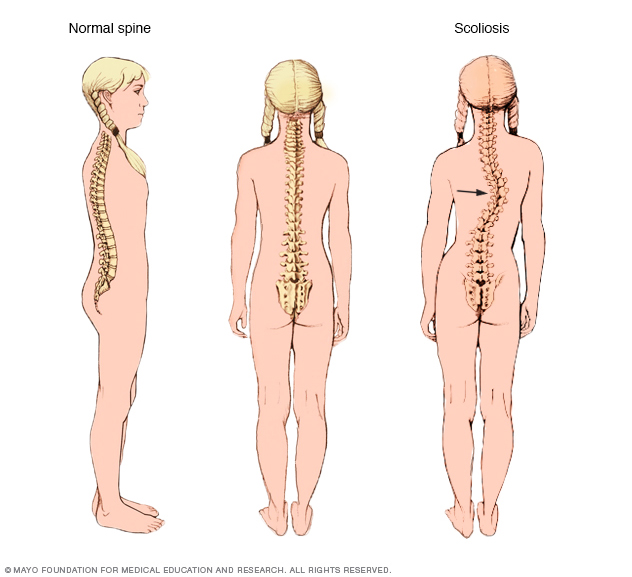 Scoliosis
Scoliosis is a sideways curvature of the spine that occurs most often during the growth spurt just before puberty. While scoliosis can be caused by conditions such as cerebral palsy and muscular dystrophy, the cause of most scoliosis is unknown.
Most cases of scoliosis are mild, but some children develop spine deformities that continue to get more severe as they grow. Severe scoliosis can be disabling. An especially severe spinal curve can reduce the amount of space within the chest, making it difficult for the lungs to function properly.
Children who have mild scoliosis are monitored closely, usually with X-rays, to see if the curve is getting worse. In many cases, no treatment is necessary. Some children will need to wear a brace to stop the curve from worsening. Others may need surgery to keep the scoliosis from worsening and to straighten severe cases of scoliosis.