State-of-the-art treatment for prostate cancer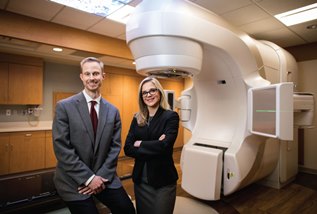 Men diagnosed with prostate cancer have access to state-of-the-art radiation technology in La Crosse, Wisconsin, thanks to an advanced linear accelerator at Mayo Clinic Health System — Franciscan Healthcare. The technology has been available locally for two years.
"The linear accelerator enables us to deliver very precise radiation treatments, which helps avoid radiation dose to healthy tissue nearby," says Abigail Stockham, M.D., a radiation oncologist in La Crosse.
This technology allows for safer, faster treatment with the goal of reducing side effects, Dr. Stockham says.
Patients who have prostate cancer treatment at Mayo Clinic Health System benefit from more than technology, however. They also benefit from a team of experts dedicated to ensuring each patient receives the most appropriate treatment. In La Crosse, that team includes each patient's primary care provider, as well as staff in Urology and Medical Oncology. Specialists at Mayo Clinic in Rochester also are part of the team.
"We work closely with our colleagues at Mayo Clinic in Rochester," says David J. Schwartz, M.D., a radiation oncologist in La Crosse. "Each patient's chart is reviewed by multiple physicians, both in the health system and at Mayo Clinic, to ensure we're providing the best possible care." In addition, complicated cases receive an in-depth review by a team of Mayo Clinic specialists.
Radiation therapy is not the only treatment option for patients with prostate cancer. Dr. Stockham says men who are diagnosed with the disease should talk with their providers about which treatment is right for them. The answer will depend on a variety of factors, including how fast the cancer is growing, how much it has spread, the patient's overall health, as well as the benefits and the potential side effects of treatment.
"There are a lot of nuances and what might seem like different messages about prostate cancer diagnosis and its treatment," she says. "Your primary care provider can help you sort through your health care options and determine what approaches are best for you."
Linear accelerator treatment also is offered in Eau Claire, Wisconsin, and Mankato, Minnesota.
Topics in this Post