Wellness coaching pays off for Mankato woman
Coming to Mankato, Minn., a year ago was a fresh start for Amy Eggert, 30, who grew up just north of Austin, Minn. A new job and a new mentality combined to create a better life for Eggert — the biggest being the latter. She had decided it was time to get and stay healthy, and she wanted to prove she could do it without weight loss surgery, which her mom and sister both had years before.
So, on May 14, 2013, she signed up for wellness coaching at Mayo Clinic Health System in Mankato. Even though she had tried to lose weight, keep it off and get healthy before, she knew the time was right for a structured health plan.
"Everything happens for a reason," says Eggert, regional supervisor of Medical Staff Services at Mayo Clinic Health System. "I was ready this time. Ready to put myself first."
A life-changing program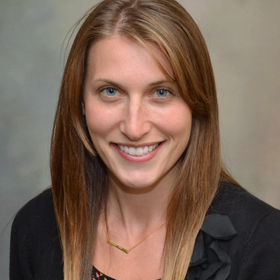 Eggert began the three-month program the same way everyone else does — with an initial coaching session. These sessions, which are 60 to 90 minutes, focus on personal wellness priorities, goals and vision. Then it's on to six bi-weekly sessions. During the weeks after her first meeting, Eggert met with Alyssa Baker, Wellness Coaching, to discuss progress and find support for whatever she was going through — positive or challenging.
"Alyssa is really good helping me keep my goals realistic," says Eggert. "Wellness coaches are good at setting you up for success."
Success was exactly what Eggert experienced, and that success has carried through to the present.
"I've lost about 40 pounds and have maintained that weight — no increases," says Eggert. "This is a huge win for me."
Eggert also says that she has significantly lowered her body fat percentage. Beyond the tangibles, she notes increased confidence, as well as better self-discipline. More importantly, she's an evangelist of the program for others, no matter what stage of health they're at.
Anyone can do it
"Your knowledge of nutrition and exercise doesn't matter," says Eggert. "(Wellness coaching) is helpful because someone else is helping you reach your goals."
Baker echoes the statement and says people can start a wellness coaching program for a number of reasons. The program encompasses many health topics, such as physical activity, nutrition, stress management, weight management, work/life balance and even smoking cessation. Whatever the need, the program is driven by the participant, which allows them to take control of their health by setting goals.
"They're the expert in their own life," says Baker. "Wellness coaching is about becoming mindful of your actions and decisions. It gives you the opportunity to work toward living the life you have imagined for yourself. It's figuring out how to put the pieces together."
Topics in this Post
Comments (3)
Site Administrator
Friday, April 25, 2014
Hello, and thank you for your questions. We'll try to respond to both here:
Wellness coaching helps patients address positive lifestyle changes that they are ready for. This can include exercise, nutrition, emotions, stress and much more. Wellness coaching takes place in Mankato. However, phone consultations are available to anyone. Wellness coaches do ask that the initial consultation be in person to help build a relationship with the patient. If you are interested in wellness coaching, speak with your primary care provider to get a referral.
Please let us know if you have any further questions.
Echo
Monday, April 21, 2014
Hi, was wondering if a program like this is offered in Fairmont, Minnesota?
Diane
Monday, April 21, 2014
What is this wellness coaching ?? I need a program that involves everything - exercise, food, emotional eating, etc. Thanks - Diane