New OB-GYN physician joins New Prague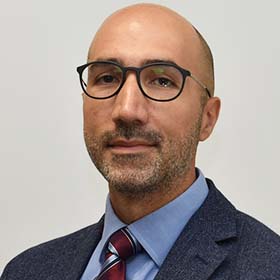 NEW PRAGUE, Minn. — Mayo Clinic Health System in New Prague recently welcomed a new obstetrics and gynecology provider to its clinic. Tarek Khalife, M.D., joined the practice on Oct. 3 and began seeing patients Oct. 10.
"The community of New Prague was a perfect fit for me," says Dr. Khalife. "I love the people and the area. You can enjoy the beauty of this rural setting while also having access to a nearby metropolitan area like Minneapolis. It truly is the best of both worlds."
Dr. Khalife states he has always had a passion for knowledge, and early on in life, he saw himself teaching biology. He instead went on to study medicine and enjoyed the detail-oriented surgeries associated with the ear, nose and throat specialty. However, it was an interest about the complexities associated with the female body, especially during pregnancy, which solidified his decision to practice OB-GYN.
"As a native learner, I enjoy making a difference in my patients' lives," says Dr. Khalife. "Helping to educate both my patients and collaborate with my peers is something I feel strongly about."
Dr. Khalife graduated medical school at Beirut Arab University in Beirut, Lebanon. He later completed two separate residencies in OB-GYN from Henry Ford Health System at Wayne State University in Detroit and American University of Beirut Medical Center in Beirut. He lists minimally invasive surgery, pelvic support disorders, female sexual disorders and gynecological ultrasound as professional interests.
"Having an experienced physician such as Dr. Khalife bring his talents to our growing OB-GYN team is exciting news," says Marty Herrmann, M.D., medical director of Mayo Clinic Health System in New Prague. "Dr. Khalife joins a group of providers who are dedicated to delivering specialized care for women throughout their lifelong journey — from childbearing age to menopause and beyond."
"Every patient is unique in her own way," says Dr. Khalife. "My job is not to dictate, but act as a partner to discuss the best options for their care."
Outside of work, Dr. Khalife says he participates in a number of outdoor activities, including camping, biking and swimming. He is also a remote-controlled plane hobbyist and enjoys photography.
Call 952-758-9355 to schedule an appointment.
Mayo Clinic Health System consists of clinics, hospitals and other facilities that serve the health care needs of people in more than 60 communities in Georgia, Iowa, Minnesota and Wisconsin. The community-based providers, paired with the resources and expertise of Mayo Clinic, enable patients in the region to receive the highest-quality health care close to home.
Press Contact
Micah Dorfner
e-mail: MACOMMDEPT@mayo.edu
phone: 507-594-2691
fax: 507-594-2992
Topics in this Press Release