Radiologist Erik Steckler, M.D., joins Eau Claire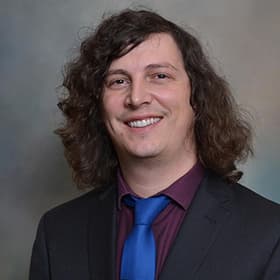 EAU CLAIRE, Wis. — Radiologist Erik Steckler, M.D., recently joined the Radiology Department at Mayo Clinic Health System in Eau Claire.
Dr. Steckler earned his bachelor's degree in biology from the University of Nebraska-Lincoln. He earned his medical degree from the University of Nebraska Medical Center.
Dr. Steckler completed his residency at the University of South Florida in Tampa and a fellowship in neuroradiology at Mayo Clinic in Rochester, Minnesota.
He is a member of the American Medical Association, the American College of Radiology and the American Society of Head and Neck Radiology.
His special interests include head and neck radiology, temporal bone disease, and ear, nose and throat/neuroradiology imaging.
"I chose to practice in Eau Claire because it gives me the chance to develop my professional interests while raising my family in a smaller community," says Dr. Steckler. In his spare time, he enjoys golf, fishing, shooting sports, gardening and other outdoor activities.
# # #
Mayo Clinic Health System consists of clinics, hospitals and other facilities that serve the health care needs of people in 60 communities in Georgia, Iowa, Minnesota and Wisconsin. The community-based providers, paired with the resources and expertise of Mayo Clinic, enable patients in the region to receive the highest-quality health care close to home.
Press Contact
Dan Lea
e-mail: lea.dan@mayo.edu
phone: 715-838-6405