Ola Kanj Ahmed, M.D., joins Oncology in Eau Claire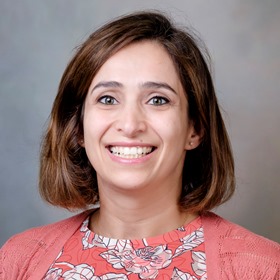 EAU CLAIRE, Wis. — Ola Kanj Ahmed, M.D., has joined the Oncology Department at Mayo Clinic Health System in Eau Claire.
Dr. Kanj Ahmed received her medical degree from the University of Jordan in Amman, Jordan. She was chief medical resident of the internal medicine residency program at Unity Health System in Rochester, New York. She completed her fellowship in hematology and medical oncology at the University of Rochester Medical Center in Rochester, New York.
Dr. Kanj Ahmed is a member of the American Board of Internal Medicine.
"I am very excited to join the medical staff at Mayo Clinic Health System and to be part of a team that cares for cancer patients and their families in our community," says Dr. Kanj Ahmed.
In her free time, Dr. Kanj Ahmed enjoys playing piano, reading, swimming, gymnastics and running.
To schedule an appointment in Oncology, please call 715-838-6072.
# # #
Mayo Clinic Health System consists of clinics, hospitals and other facilities that serve the health care needs of people in more than 60 communities in Georgia, Iowa, Minnesota and Wisconsin. The community-based providers, paired with the resources and expertise of Mayo Clinic, enable patients in the region to receive the highest-quality health care close to home.
Press Contact
Kristin Everett
e-mail: everett.kristin@mayo.edu
phone: 715-838-5805