Nurse practitioner Emily Jenders joins Family Medicine in Eau Claire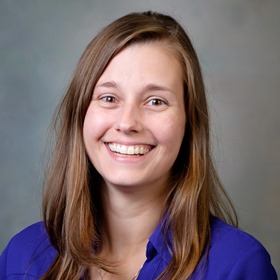 EAU CLAIRE, Wis. — Nurse practitioner Emily Jenders recently joined Family Medicine at Mayo Clinic Health System, 733 W. Clairemont Ave., Eau Claire.
Jenders earned her master's degree in nursing from Metropolitan State University in St. Paul, Minnesota, and a master's degree in nursing — family nurse practitioner from Concordia University in Mequon, Wisconsin. She earned her bachelor's degree in biology, society and environment from the University of Minnesota in Minneapolis.
She is a member of the American Association of Nurse Practitioners and is certified by the American Heart Association in basic life support and advanced cardiovascular life support.
Jenders previously worked as a nurse at Mayo Clinic Health System in Eau Claire.
"Pursuing a career within primary care was an obvious choice for me; there is nothing more valuable and important than the health and well-being of individuals and their communities," says Jenders. "I look forward to building a relationship with patients, and assisting with obtaining and maintaining their personal health goals and needs."
In her free time, Jenders enjoys relaxing over coffee or a meal with family and friends, and spending time outdoors hiking, in-line skating and running.
To make an appointment, call Family Medicine at 715-838-5025.
# # #
Mayo Clinic Health System consists of clinics, hospitals and other facilities that serve the health care needs of people in more than 60 communities in Georgia, Iowa, Minnesota and Wisconsin. The community-based providers, paired with the resources and expertise of Mayo Clinic, enable patients in the region to receive the highest-quality health care close to home.
Press Contact
Dan Lea
e-mail: lea.dan@mayo.edu
phone: 715-838-6405