Justine Abel, D.O., joins Emergency Department in Eau Claire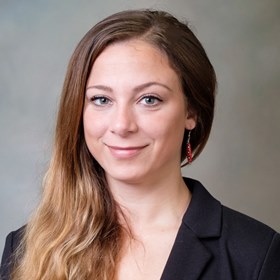 EAU CLAIRE, Wis. — Justine Abel, D.O., recently joined the Emergency Department at Mayo Clinic Health System in Eau Claire. Dr. Abel also will occasionally see patients in Barron, Bloomer, Menomonie and Osseo.
Dr. Abel earned her bachelor's degrees in English and psychology from the University of California-Davis. She earned her doctor of osteopathic medicine degree from Midwestern University in Downers Grove, Illinois.
Dr. Abel completed her residency in emergency medicine at Western Michigan University School of Medicine- Kalamazoo.
She is certified in advanced trauma, cardiac, disaster, obstetrics and pediatric life support.
"It is my family's tradition to work for Mayo Clinic. Growing up, I revered my dad's work as a physician and how he interacted with his patients," says Dr. Abel. "His practice was a great model for me and a driving force behind my desire to work for Mayo Clinic Health System."
During her free time, Dr. Abel enjoys horseback riding, animal rescue, baking, crafting and outdoor activities.
# # #
Mayo Clinic Health System consists of clinics, hospitals and other facilities that serve the health care needs of people in 60 communities in Georgia, Iowa, Minnesota and Wisconsin. The community-based providers, paired with the resources and expertise of Mayo Clinic, enable patients in the region to receive the highest-quality health care close to home.
Press Contact
Kristin Everett
e-mail: everett.kristin@mayo.edu
phone: 715-838-5805